Arthur Cadwgan Michael (1881‒1965)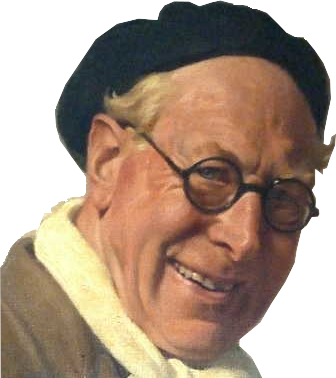 Arthur Cadwgan Michael was a painter and illustrator. He is largely known for his early black and white work, pictures of the First World War in the Illustrated London News and book illustrations.
Early life and education
Michael was born in Swansea on 23 June 1881 to Ben Michael and his wife Laurina Louisa (née Birt). Laurina was Ben's second wife and Arthur was the youngest of three children born to that marriage, being preceded by Ben Hubert (1872‒?) and Laura (1874‒1969). Arthur's middle name is spelled the Welsh way, 'Cadwgan' on his birth certificate, although he signed his name as 'Cadogan' in the register for his marriage. Although Ben was bilingual, Laurina had been born in Cheltenham, and none of the children spoke Welsh.
His father was a commercial traveller at the time of Arthur's birth but five years later the family moved up the Neath valley to take over the Bush Hotel in the High Street of Merthyr Tydfil. The Bush was a long-established business with 17 bedrooms and a ballroom, along with other day-rooms in which local business meetings and auctions were held.
Michael showed an early talent for drawing and, as a teenager, attended evening art classes at Penydarren School, under the tuition of G. F. Harris.[1] In April 1894, the Merthyr Express reported on a display in the window of Edwin White's picture framing business:
"Somewhat more ambitious is the effort of Mr. Arthur Michael, son of Mr. B. Michael, Bush Hotel, who has recently completed two rough water-colour sketches illustrative respectively of life in the far West, and noonday in the East. Although probably in the same latitudes, the scenes may be regarded as the antithesis of each other. The one has all the luxurious growth and welcome shade of a West-American valley, whilst the other vividly portrays the arid dryness of the desert. The latter is distinctly clever for a beginner, and shows unmistakeable signs of latent ability. The brassy eastern sky, the pitiless white heat, the clearly-defined shadows of a Mahommedan temple athwart the sand, are all brought out with remarkable fidelity. The sketch is rough and has faults of perspective, but it is instinct with artistic life, and the youthful artist deserves the warmest encouragement."
Michael attended the Government School of Science and Art, in Alexandra Road, Swansea, from 1896 to 1899. The art master at this time was F. F. Hosford.[2] Michael would probably have attended for two or three days each week, for four hours at a time.
In the May 1897 examination, Michael achieved awards in Anatomy (1st class) and Drawing from the Antique (2nd class).[3] In 1899, he received a 1st class in Drawing from the Antique and 2nd class in Drawing from the Life.
In France
Michael moved to Paris in late 1899, living in Montparnasse. He contributed drawings to the satirical magazine L'Assiette au Beurre, the art magazine Cocorico and possibly others. He started signing drawings with an "AM" monogram and as Arthur Michael or Michaël, possibly reflecting the French pronunciation of "Michael" or maybe because of the international circle of friends he found.[4].
I have so far been unable to find out where he studied while staying in Paris. He is not in the list of students at the Académie Julian compiled by Catherine Fehrer, though she notes that her list mainly consists of people who have appeared in later dictionaries of artists.[5].
News of Michael's success in Paris filtered into the newspapers back home in Merthyr, with his mother probably tipping off the editor. This appeared in Polonius's gossip column of the Merthyr Express on 7 September 1901:
"I have noticed for some time past in several of the best Continental illustrated papers some clever sketches and full-page illustrations under the signature of A. M. Few people are aware that this is Mr Arthur Michael, son of Mr Michael, of the Bush Hotel, who has spent six years in the best art schools in Paris. He is a finished artist, and does pastels, line drawings, and brush work. Mr Michael at present is living in Paris, and is presumably likely to continue there, having secured such a good position, and his work being now readily accepted by all the best continental journals."
Clearly something was lost in translation here, as Michael had not been in Paris for six years, though he had been having art tuition for that long.
Moving to London
Michael was back in England by 1903, attending his father's funeral in February and then starting illustrating for Harmsworth's London Magazine.
He married the young widow Constance Rosling in Herne Hill in . She had previously been married to chartered accountant Ernest Rosling and had a son, Arnold, with him, but Ernest had died at the age of just 37 in 1902.
In he showed "Riots in Moscow" in the black and white room at the Summer Exhibition of the Royal Academy.
In he illustrated H. G. Wells's "The War in the Air" for The Pall Mall Magazine. After the serial had finished, his illustrations were used in the book published by George Bell & Sons.
In he provided the frontispieces for at least three issues of the illustrated weekly paper Black and White. In it was "A Skating Carnival at Olympia," and a sketch of the final act of the play "An Englishman's Home." In the Western Chronicle reported that the frontispiece of the summer edition was drawn by Michael, showing the King opening the Victoria and Albert Museum.
He was working regularly for the Illustrated London News from about to at least the early 1920s, as well as providing work for other periodicals like The Pall Mall, Pearson's Magazine, The Strand Magazine, The Windsor Magazine, Cassell's The Quiver and Amalgamated Press's The World & His Wife. He also illustrated plenty of books, some of which are listed below.
Most of his work during this period was credited to "A. C. Michael", with just his earliest work appearing as by "Arthur C. Michael."
In the Papers
The relative anonymity offered by his use of "A. C." must have come as some comfort in when his full name hit the newspapers for all the wrong reasons.
In Constance sued for divorce, after first having to sue for restitution of conjugal rights and was granted a decree nisi on . On the very same day, a Herbert Owen was granted a decree nisi for his divorce from Dora Mary Owen, claiming that she had "committed misconduct" with Arthur Cadogan Michael. The King's Proctor took a look at these two divorces, did some digging, and alleged that Herbert had also committed misconduct with Constance. In the court case, in , both decrees nisi were rescinded because the two men had exchanged wives.
So, rather awkwardly, two marriages had broken down, but in neither case could a divorce be granted. Herbert and Dora Mary had three children; Arthur and Constance had none.
Herbert and Dora's children were adopted by his sister Louise, who was private secretary to Alfred Harmsworth, Lord Northcliffe. Herbert continued living in Carshalton, Surrey. Constance moved to Bexhill in East Sussex, where she died in 1970.
On , Arthur left for Spain on the ship Frisia; accompanying him was his "wife," Dora Mary Michael.
In Spain
By this time, Michael was very familiar with Spain, having travelled extensively with an unnamed companion in 1912 and 1913, painting and writing a travelogue which was published by Hodder & Stoughton in 1914 as An Artist in Spain.
In Guernsey
By about 1928, Michael was living in Guernsey, apparently married to Dorothy (née Moorhouse). During this decade he produced at least two posters for the railway companies LNER and LMS; "Edinburgh" and "The Broads."
Shortly after the Germans invaded Guernsey and the other Channel Islands in June 1940, Dorothy's son, Lieutenant Desmond Mulholland, landed on Guernsey as part of an ill-fated covert fact-finding mission. He had to give himself up after a few weeks and was transported to a camp in Germany. Two years later, Dorothy and Arthur were also taken to Germany to see out the rest of the war in a camp as neither of them had been born on the island.[6]
After the war, Dorothy and Arthur returned to Guernsey, where he continued to paint. Guernsey Museums have some of his work. He died on , just six days after his 84th birthday.
Works
Here is an incomplete list of books that Michael illustrated.
H. G. Wells, "The War in the Air" (George Bell, 22 October 1908), "The Outline of History" (Waverley, 1920)
John Oxenham, "Great-Heart Gillian" (Hodder and Stoughton, 1909) [4 colour illus.]
Warwick Deeping, "The Rust of Rome" (Cassell, 1910) [colour frontis.], "Fox Farm" (Cassell, 1911) [frontis.], "The Lame Englishman" (Cassell, 1910) [frontis.], "Bess of the Woods" (Cassell, 1911) [frontis.], "Joan of the Tower" (Cassell, 1911) [frontis.], "Sincerity" (Cassell, 1912) [frontis.], "The House of Spies" (Cassell, 1913) [frontis.], "The Pride of Eve" (Cassell, 1914) [frontis.]
H. Rider Haggard, "The Ghost Kings" (Cassell, 1908), "The Yellow God" (Cassell, 1909), "Morning Star" (Cassell, 1910), "King Solomon's Mines" (Cassell, 1912), "Marie" (Cassell, 1912), "Child of Storm" (Cassell, 1913), "The Wanderer's Necklace" (Cassell, 1914), "Red Eve" (Cassell, 1916), "The Ivory Child" (Cassell, 1916), "Finished" (Ward, Lock, 1917), "Love Eternal" (Cassell, 1918), "The Virgin of the Sun" (Cassell, 1922)[7]
May Byron, "A Day with Ludwig van Beethoven" (Hodder & Stoughton, 1910), "A Day with Lord Byron" (Hodder & Stoughton, 1910), "A Day with Samuel Taylor Coleridge" (Hodder & Stoughton, 1912)
J. M. Barrie, "A Window in Thrums" (Hodder & Stoughton, 1911)
C. J. Cutcliffe Hyne, "Empire of the World" (London: Everett & Co., 1910)
Happy, the King's Dog, "If I Were King George" (Hodder & Stoughton, 1911)
Herbert Strang, "Round the World in Seven Days" (Henry Frowde and Hodder & Stoughton, 1910; Humphrey Milford, OUP, 1923), "Herbert Strang's Annual (Henry Frowde and Hodder & Stoughton, 1910), "The Cruise of the Gyro-Car" (Henry Frowde and Hodder & Stoughton, 1911)
Francis Turner Palgrave, "The Golden Treasury of Songs & Lyrics" (Hodder & Stoughton, 1911) [illustrations for two poems by Byron, "All for Love" and "She Walks in Beauty"]
Charles Dickens, "A Christmas Carol" (London: Hodder & Stoughton, 1911)
Max Pemberton, "White Motley" (Cassell, 1912)
Arthur Conan Doyle, "The Mystery of Cloomber" (London: Hodder & Stoughton, 1912) [frontis.]
Sir Walter Scott, "Old Mortality" (New York: Houghton Mifflin Company, 1912) [frontis. "Morton's Encounter with Burley of Balfour"]
Albert Dorrington, "The Radium Terrors" (Garden City: Doubleday Page & Company, 1912) [frontis. entitled "The Duchess of Marister was conducted to the Scarlet Room and stood gazing at the picture called 'The Haunted Pagoda'"] [This story was first serialised in Pall Mall from January to June 1911, with illustrations by Michael and then published in London by Eveleigh Nash; the book has a colour onlay on the cover but no other illustrations.]
Henry C. Rowland, "The Closing Net" (New York: Dodd, Mead & Company, 1912; London: Hurst and Blackett, 1913)
H. E. Marshall, "A History of France" (Hodder & Stoughton, 1912), "A History of Germany" (Hodder & Stoughton, 1913), "This Country of Ours" (George H. Doran, 1917), "A History of the United States" (Hodder & Stoughton, 1919)
I. A. R. Wylie, "The Paupers of Portman Square" (Cassell, 1913)
Newman Flower, "Red Harvest" (London: Cassell & Co., 1913) [frontis.]
A. C. Michael, "An Artist in Spain" (Hodder & Stoughton, 1914)
Oliver Onions, "Mushroom Town" (Hodder & Stoughton, 1914)
"Princess Mary's Gift Book" (Hodder & Stoughton, 1914)
"Abdulla Almanack 1915" (Abdulla & Co., 1914)
Charles and Mary Lamb, "Tales from Shakespeare" (Hodder & Stoughton, 1914)
Walter Wood (ed.), "Soldiers' Stories of the War" (London: Chapman and Hall, 1915)
Lindsay Russell, "The Gates of Silence" (Ward, Lock, 1915) [frontis.]
"The Land of My Fathers" (London: Hodder & Stoughton, 1915)
Frank Danby, "The Story Behind the Verdict" (London: Cassell, 1915) [colour frontis.]
Andrew Soutar, "Charity Corner" (Cassell, 1915) [colour frontis.]
Louis Tracy, "The Case of Mortimer Fenley" (Cassell, 1915) [frontis.]
Mrs. George de Horne Vaizey, "What a Man Wills" (Cassell, 1915)
Ernest Davies, "The Widow's Necklace" (Duckworth, 1915) [colour wrapper]
Robert Louis Stevenson, "Catriona" (London: Cassell, 1915)
G. A. Leask, "V.C. Heroes of the War" (London: George G. Harrap, 1917)
Christine Chaundler and Eric Wood, "My Book of Beautiful Legends" (London: Cassell & Co., 1916) [12 colour plates]
Hazel Phillips Hanshew, "My Book of Best Stories from History" (London: Cassell, 1917)
"The British Girls' Annual" (London: Cassell, various years between 1912 and 1920)
Christine Chaundler, "My Book of Stories from the Poets" (London: Cassell, 1919) [12 colour plates]
"Highroads of Literature: Book V.—'Books of all Time'" (Thomas Nelson and Sons, 1924)
Footnotes
George Frederick Harris (1856‒1924) was a noted portrait and landscape painter whose father had moved the family to Merthyr after he became insolvent in Birmingham. George grew up in Merthyr, taught art at schools and privately in the area and emigrated to Australia in 1920.
Frederick Floyde Hosford (1833‒1918) was a prize pupil of the Cork School of Art before training to become a teacher and moving to Wales in the mid 1850s. He became master of the Carmarthen School of Art on 25 May 1857. He had a hand in resuscitating the Llanelly School of Art the following year and became art master at Swansea's Normal College in 1869. After retiring from the Art School in 1908, he became art curator at the public library. He left Swansea in July 1917, shortly after the death of his wife, and then retired to his son-in-law's house in Surrey, where he died six months later.
Stanley Appelbaum, in his book "French Satirical Drawings from 'L'Assiette au Beurre'" (Dover, 1978), suggested that 'our' Michael could be the one who worked in France, though he couldn't be sure. The article in the Merthyr Express is a recent find, and clarifies a story from Arthur's sister Laura about accompanying him to Paris on one occasion.
Catherine Fehrer, "The Julian Academy, Paris 1868‒1939" (New York: Shepherd Gallery, 1989)
Many more fascinating details are contained in Peter Jesson's "No News from Guernsey: The Diary of Lieutenant Desmond Mulholland, M.C." (Peacock Press, 2014).
Most of Michael's illustrations for Haggard stories are to be found at Kate Holterhoff's "VisualHaggard.org"